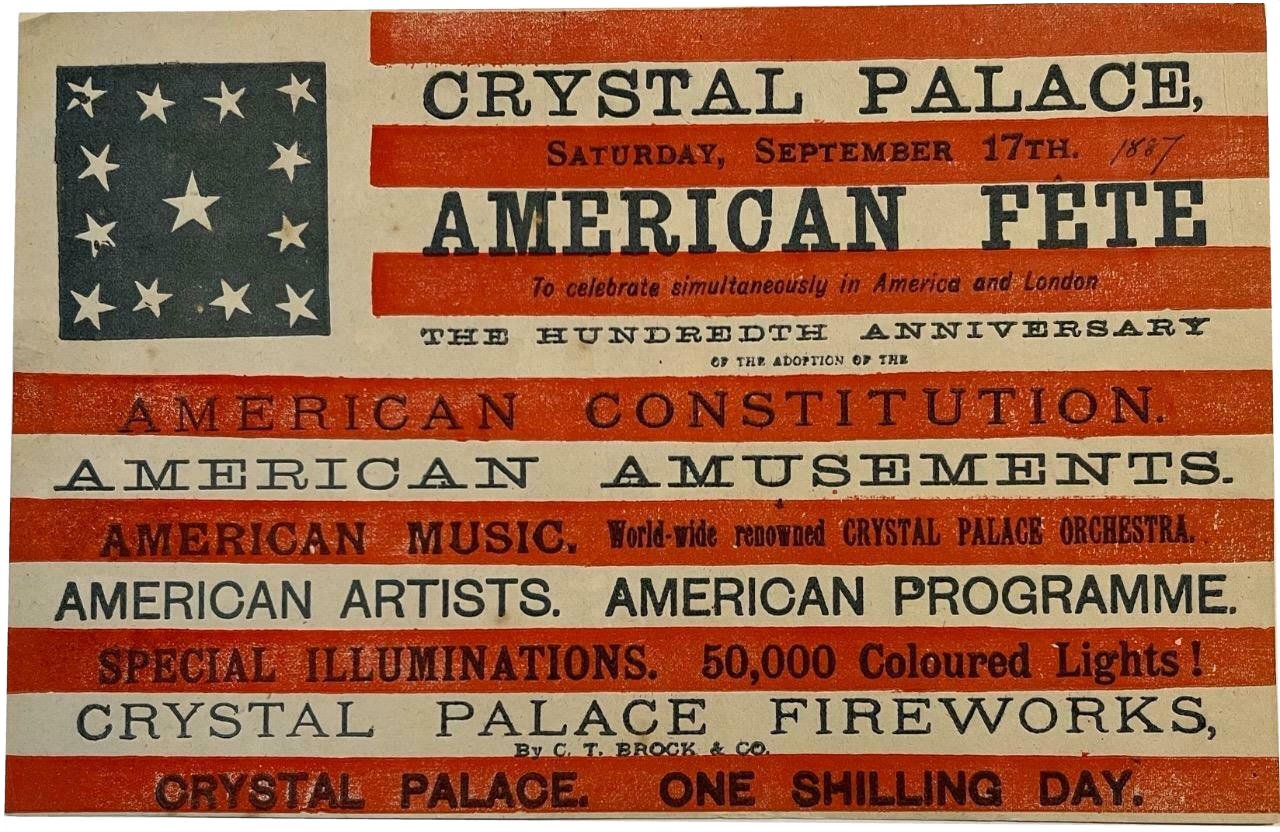 Printed advertisements of the late 19th century are some of the most visually interesting items of ephemera due to their unique use of slogans and fonts. Designed to attract the attention, and also to be given as a memento, these advertisements were designed to build interest or excitement in a product or event. This exceptionally rare survivor was printed in 1887 to advertise the celebration of the 100th anniversary of the American Constitution at the Crystal Palace in London. Built to house the Great Exhibition of 1851, the Crystal Palace was a fantastic glass and iron building that showcased British engineering and materials expertise using plate glass and iron to make a vast building with clear walls and roof.
As described on the advertisement, the celebration was a grand event, demonstrating Britain's affection for its American cousins. The grand "American Fete" that Londoners held to celebrate the American and the U.S. Constitution coincided with similar events held in Philadelphia. A report of the British celebration was noted in the Indiannapolis News on September 17, 1887.
"Commemorative Fete In England. The Indianapolis News. London, September 17. A fete commemorative of the century of the adoption of the American constitution was held in the Crystal palace today: It was designed as a tribute to the patriotic celebration of the event in Philadelphia. Large crowds of people joined in the festivities of the day and nearly all the prominent Americans now sojourning in the city joined in the proceedings."
In terms of visual interest, the paper advertising flag, which measures 8-1/2" by 5-1/2" is a wonderful read, generating excitement for the event by describing the music, art, amusements, fireworks, and colored lights. The various fonts and quirky punctuation are typical of advertisement styles of the period, as seen on other American flag trade cards from this era. Packed with action, the advertisement tells the "what, where, when, and what cost" in a single item that Londoners could take and keep. The survival of such a fragile piece of ephemera is extremely rare, and this is one of the most interesting pieces of flag-related Americana I have encountered, especially since it was made overseas in England to celebrate America.