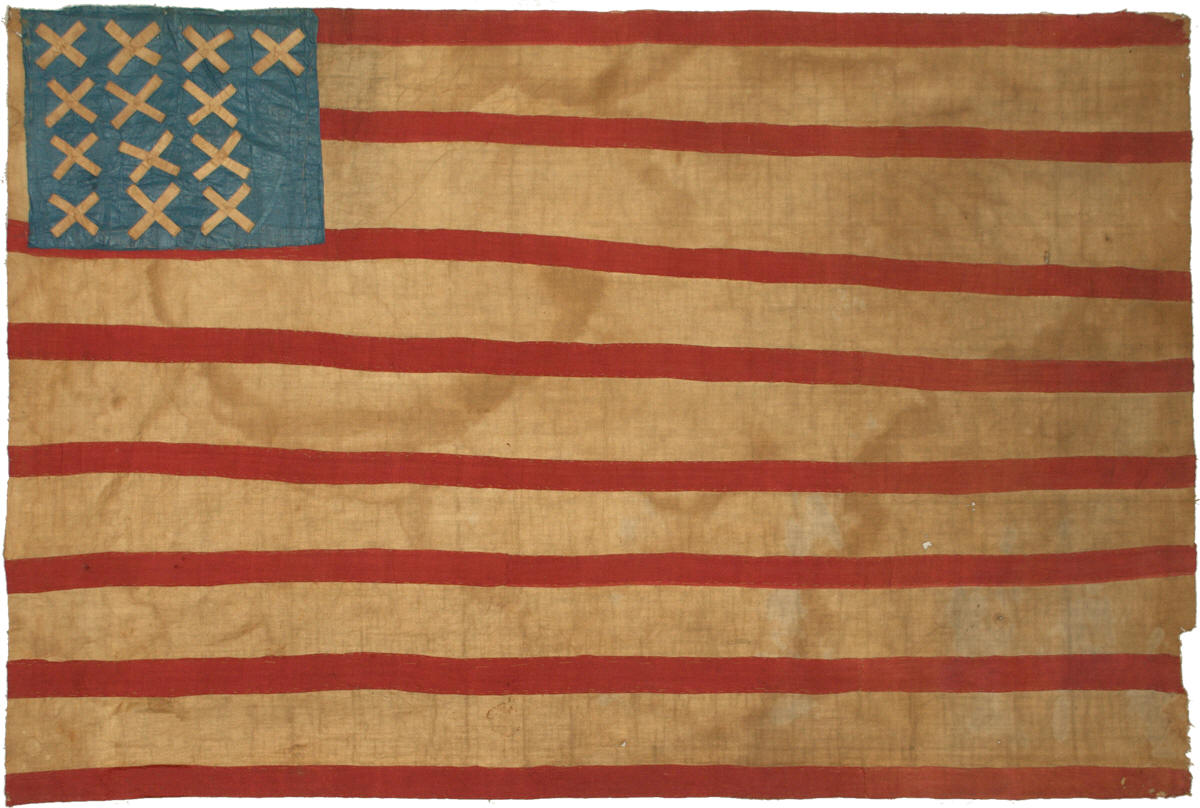 Homemade flags have a particular charm, and those made under times of hardships, where materials are scarce are often the most whimsical and folky examples one can encounter. The materials and construction of this flag are consistent with the Civil War era, and it is likely that this flag was made during this period in time. Prior to the Civil War, flags were typically used for naval and maritime purposes, or for civic purposes. It was only during the Civil War that Americans began making and flying large numbers of homemade flags to show their patriotism and dedication to the country. Flags were made for rallies and parades, and to hang from businesses and homes.
This is a wonderful example of a "make do" flag, so named because the maker gathered and used fabrics that they found at hand, thus making do with whatever they could find. The flag itself is made of a single sheet of white heavy cotton fabric. The stripes are made of a thin, fragile cotton fabric. The cornflower blue canton is made of a polished cotton chintz fabric. The maker created two cantons, both with the same pattern of "X" shaped polished cotton stars, and sewed one canton back-to-back on each side of the flag. They also sewed the red stripes on top of the white fabric. This method of creating a flag, where the canton and stripes are sewn to a single sheet of white, is rarely seen in flag making. The canton of this flag sits partially on a red stripe, a situation known as the "blood stripe". The canton is particularly small, the red stripes are very narrow, producing a candy stripe effect.
Another notable flag in the Rare Flags collection, IAS-00090, has several similar traits in terms of construction and materials. It too dates to the Civil War period; it has stripes made of a very similar thin red cotton material, and the body of the flags are made of similar heavy cotton sheeting; and it also has a canton that sits on the blood stripe. Together, these two rare flags are among most visually recognizable and unique representations of the American flag that survive from the period of the Civil War.