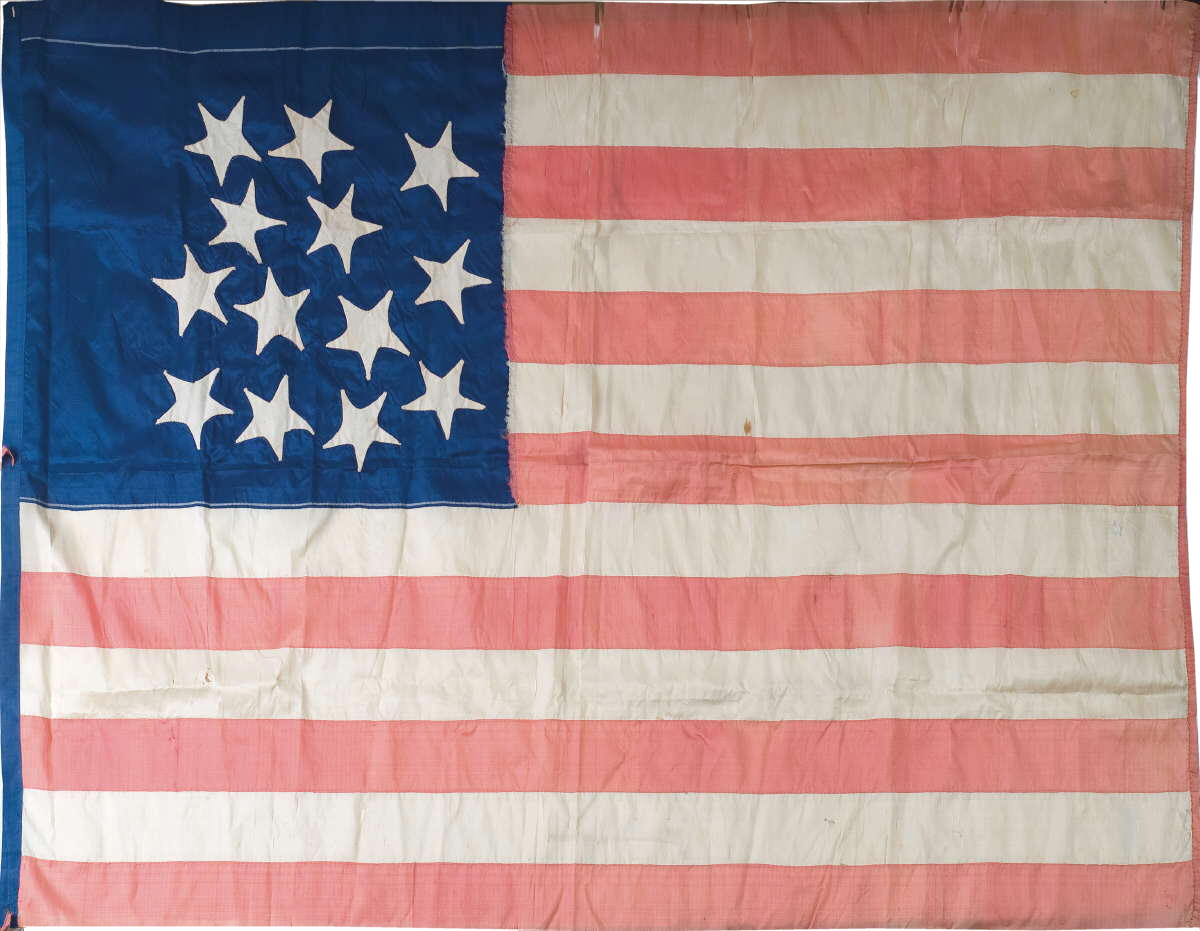 This beautiful 13 Star Flag is one of the rarest in the collection and is a masterpiece of early American Flag making and American Folk Art. The flag descended in the Dyer Family of Rhode Island. According to family tradition, it was a gift given in the 1840's to the sons of Elisha Dyer Sr. The age of the flag is yet unknown and requires further analysis, but the construction of the flag, with its unusual canton, pink silk stripes, and all hand sewn construction supports an attribution of the flag as being pre-Civil War. Furthermore, the arrangement of the stars to the right of the canton is intriguing, in that the maker seems to have intentionally positioned the stars in anticipation of adding new ones in the future. This would be unexpected in a 13 star flag made as a later commemoration of the original 13 colonies, and such a design decision could indicate that the flag is in fact a period 18th century flag, perhaps gifted later to the Dyer family from previous owner. The earliest attributed flag in the Rare Flags collection, an American National Flag with 19 Stars Updated to 25 Stars (IAS-00001) also has this trait, whereby the original stars are intentionally sewn to the right of the canton with space left for new stars. It is a period flag, originally dating to Indiana statehood in 1816.
I am aware of just a handful of early silk American Flags which exhibit coloration similar to this flag. Of these, their age attributions range from the late 18th century through the Civil War. (Click here to see a comparison of these to the Dyer Flag). It's apparent from the exceptional condition of this flag that it was not flown outdoors for any period of time, and the pink coloration is even on both sides, indicating that either the red dye of the stripes faded naturally, perhaps in dark storage, or that the fabric was initially pink in color when the flag was constructed. In any case, despite all speculation about the flag's age or flag maker's intentions, the extraordinarily beautiful flag is an American treasure and a gem of a flag, carefully preserved by generations of the Dyer family.
Elisha Dyer Sr. (b. July 20, 1811, d. May 17, 1890) was elected Adjutant General of Rhode Island in 1840, and held the post for five years. It seems that while at this post, the Dyer Flag was gifted to his sons. He then went on to serve as the Governor of Rhode Island from 1857-1859. Elisha Dyer Jr. (b. November 29, 1839, d. November 29, 1906) to whom this flag was gifted, also went on to serve as the Governor of Rhode Island from 1897-1900 and the Mayor of Providence, Rhode Island from 1904 until his death in 1906.
| | |
| --- | --- |
| Elisha Dyer Sr. According to family tradition, the flag was gifted to his sons during the period when he served as Adjutant General for the Rhode Island Militia, c1840. He later served as Governor of the State of Rhode Island. | Elisha Dyer Jr., one of the sons of Elisha Dyer Sr., to whom the flag was gifted as a child. He rose to the rank of Brigadier General in the Rhode Island Militia, and later served as Governor of the State of Rhode Island and Mayer of Providence, Rhode Island. |