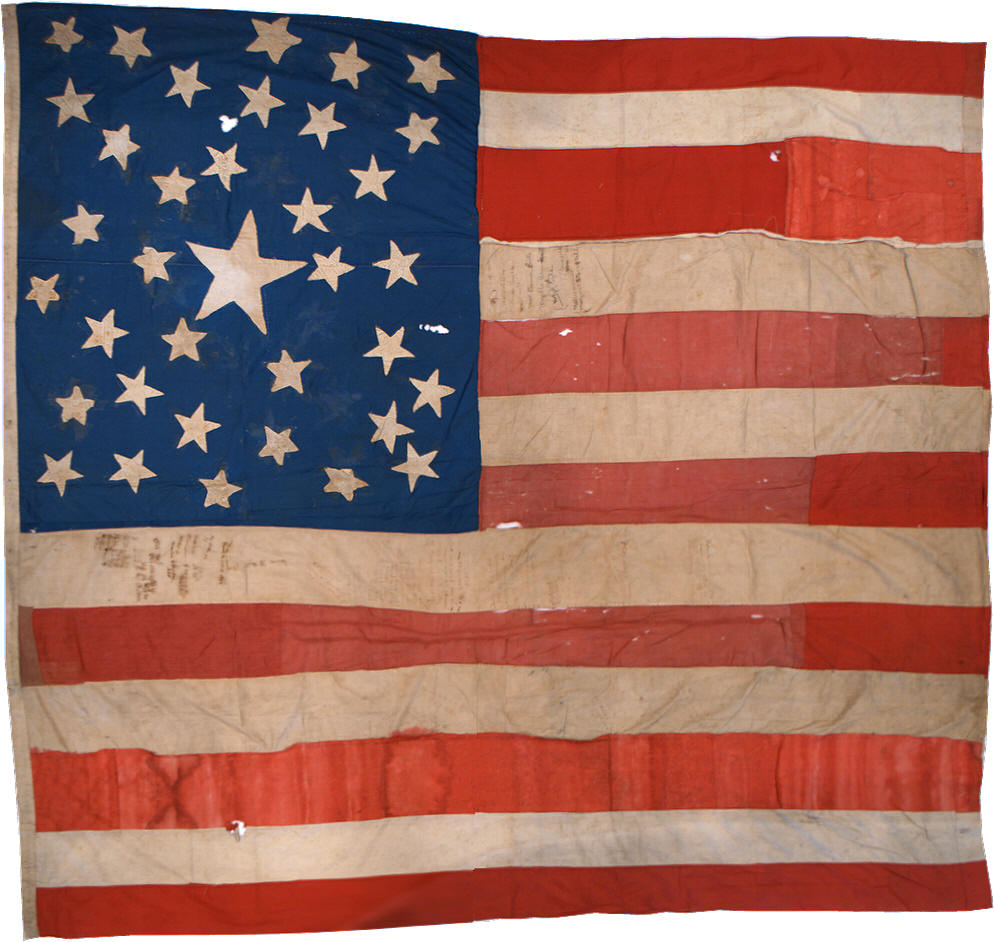 The character and charm of certain rare American Flags are often attributed not only to an unusual design or rare star count, but also to having a well documented tie to the hands that made and cared for the flag over many years. In the case of this extraordinary flag, its rarity and beauty are attributed to a fascinating design and extraordinary documented provenance. In order to create this bold, large, beautiful flag, the maker, Miss Emma McNutts, apparently pulled various fabrics from her rag bag and pieced them together to form her creation. Made entirely of cotton, the flag is so thoroughly patched and repaired that it's difficult to determine which portions of the red stripes are original. The bold center star of the flag is surrounded by what appears initially to be a random scattering of stars upon the blue field. Only after more than a year of owning the flag did I realize the presence of three concentric wreaths of stars with four corner stars, a rare triple medallion hidden in what originally seemed to be a random arrangement.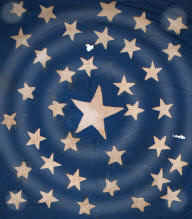 Written upon the flag itself is an incredible patriotic history of its creation and use. The first entry, inked upon the center white stripe, reads "Emma McNutts Flag made for Grant & Colfax 1868" followed by a narrative of events that spans more than 30 years:
New Center for Hayse [sic] 1876

Garfield 1880

Blain 1884 was beaten but waved my colors for him just the same

Patched for Harrison & Morton 1888
See this German Day Aug 16th 1893 I wave for the Dutch with a list of women's names: Missis Nickles, Pearl Woodruff, Grace Smith, A. Lewis, A McKimm
Decoration Day 1898 I waved my colors as of old but under difference

Maude McGee "The way we do in Paulding"
"That is what I thought"

New Patch for Dewey Day, July 4th 1899, Extra patch to wave for Geo. Sampson

I must swing for the brave Sidney Boys Company L 3rd O.V.I. before I go in the rag bag.

Am 30-years-old this year, But will wave for victory over Spain
Hip! Hip! Hurrah!
For Dewey and our Boys
Memorial Day 1902 with another list of women's names
Overall, the flag is a wonderful demonstration of the attachment that Americans develop for their homemade family flags. It is the only flag that I've ever encountered that provides such a rich context to where, when, and why a flag was flown, spanning the Reconstruction Period following the devastation of the Civil War, to the great optimism and promise of the early 20th Century.