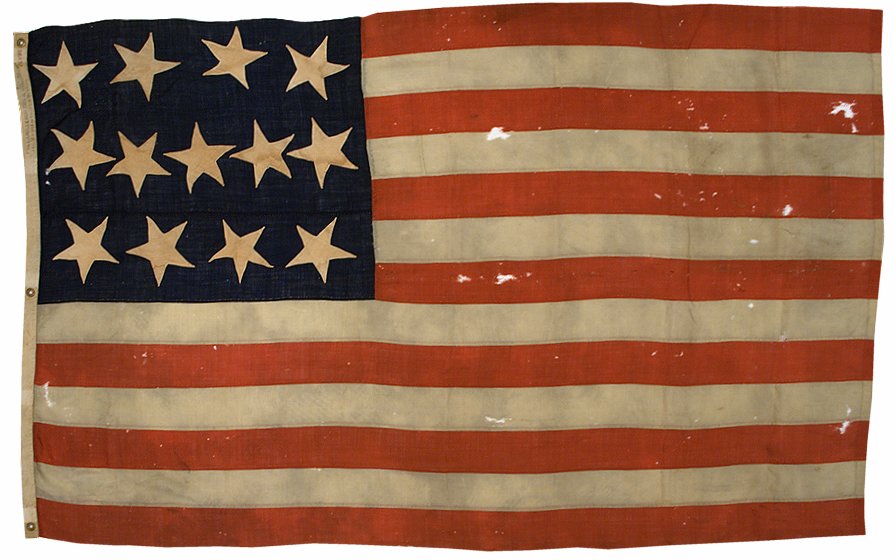 This flag is a beautiful example of a ship's flag made during the period of Reconstruction following the end of the Civil War. At just over seven feet in length, it is considered small for a sewn flag of the period, when it was common to find sewn flags that were ten, twelve, or even twenty feet or more in length. The extremely large and folky single-appliqué stars are the size of small dinner plates, and their dancing orientation, the closely packed middle row, and the fact that they nearly fill the canton makes for one of the most wonderful and attractive 13 star flags of any in this rare pattern to survive. The flag is one of the smallest and earliest entirely hand sewn 13 star flags with a maker's mark known. Stenciling on the hoist indicates that the flag was made by the Boston company of Pollard, Leighton & Co,104 Tremont St., Boston, Massachusetts. The company, a military and maritime outfitter, most likely serviced the Boston Navy Yard and the Port of Boston. The dating of this flag is made easier by the precise attribution of the flag maker. The cameos of company owners Abner Pollard and Samuel Leighton indicate that Pollard & Leighton Co. formed some time after 1863 and dissolved in 1872.
Abner W. Pollard. Mr. Pollard was born in the town of Lancaster, Mass., in the year 1808. He was the son of a farmer, and one of sixteen children. Their circumstances compelled him to take care of himself at an early age, and when only thirteen years old he was apprenticed to a hatter. Preferring the tailor's trade, he made arrangements to learn that business, and so proficient did he become that he was afforded an opportunity to embark in business on his own account, before attaining his majority, in company with a member of his employer's family. In after years he made a specialty of regalia and military and theatrical goods, in which he and his firm, of Pollard & Leighton, have become very widely known. He was for several years a member of the City Council, and was active in military circles, as well as with the Masons and Odd Fellows. He joined our association as a tailor, in 1835, and was a life member. He resided in Roxbury for about forty years. He died May 7, aged seventy-seven years, leaving one son, his wife and eight children having died previously.
1


Samuel P. Leighton. (1866), merchant, of Melrose, son of John P. and Margaret (Serrat) Leighton, was born in Boston, Jan. 30, 1836. He married, June 10, 1858, Adelaide F. Smith, of Boston. He attended Boylston and Quincy schools in Boston. In 1850, he went to work in Chandler & Co.'s dry goods store on Summer Street, where he remained two years. In 1854, he entered the employ of A. W. Pollard, merchant tailor and regalia manufacturer. He was admitted into the firm in 1863; firm name, A.W. Pollard & Co. Mr. Pollard retired, and his son was admitted into the firm,--firm name, Pollard & Leighton,--which dissolved about 1872. In July, 1890, Mr. Leighton (1866) organized the Boston Regalia Company, of which he is president, and began the manufacture and sale of military and societal regalia and theatrical goods, etc, corner of Temple Place and Tremont Street. His residence is in Melrose.
2
Although the year of Abner W. Pollard's retirement is unknown, it most likely followed the end of the Civil War in 1865, making this most likely a post-Civil War example made during the period of Reconstruction.
Citations:
1 Annals of the Massachusettes Charitable Mechanic Association, 1795-1892
2 History of the Military Company of the Massachusetts, Now Called The Ancient and Honorable Artillery Company of Massachusetts. 1637-1888